Lazio appeals to a fine of 128 thousand pounds distributed for violation of the coronavirus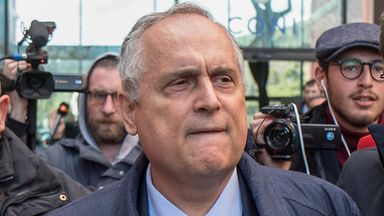 Lazio statement: "Lazio, following the declaration of the sports justice ruling which imposes a seven-month suspension for the president, 12 months for the club's doctors and a 150,000 euro fine for the club, declares that it will appeal against these decisions ".
Lazio will appeal after being fined € 150,000 (£ 128,000) and president Claudio Lotito was suspended from football-related activities for seven months following a Covid violation by the club.
The Rome club escaped a point deduction in a high-profile case that saw a number of Covid-19 positive players take part in league games in November.
The Italian FA (FIGC) opened an official investigation into the matter in November and took the company to court on Friday morning for a hearing.
The federal court confirmed the outcome of the case on Friday afternoon as club doctors Ivo Pulcini and Fabio Rodia were also suspended for 12 months.
The prosecutor asked for a fine of 200 thousand euros, a ban of 13 months and 10 days for Lotito and 16 months for Rodia and Pulcini, but the sentence was more lenient.
Trendy
Brundle: Hamilton vs Max offers F1 classics and controversies
Who will succeed Aguero al City?
Live PL on Sky: Leeds vs Man Utd, Liverpool in April
Five Rangers players have been banned for six games for violating Covid rules
"The winner of AJ vs Fury is in my own right!"
Riders' ratings: Hamilton vs Max ignites, Vettel struggles
'A cycle comes to an end' – Aguero speaks as he leaves the city
Salah: Maybe someday I'll play in La Liga
Welch makes history as the first female referee appointed to the EFL game
Porto vs Chelsea Champions League QFs to be played in Seville
video
Latest news
Lazio subsequently confirmed that they will appeal against the decision.
A statement from the club reads: "The Lazio Sports Club, following the declaration of the sports justice sentence that imposes seven months of suspension for the president, 12 months for the club's doctors and a fine of 150,000 euros for the club who will appeal these decisions. "
The Italian FA should also appeal the decision as it believes that a stricter sentence should have been issued.