Daniel Guerini: the young man from Lazio dies in a car accident at the age of 19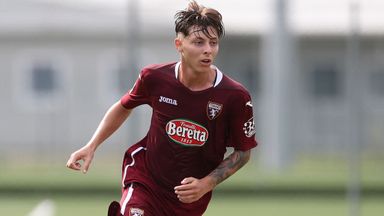 Daniel Guerini tragically passed away Wednesday in a car accident in Rome; Homage was paid to the young Lazio player and several Serie A clubs shared their condolences.
Lazio says they are "shocked" by the death of the 19 year old attacking midfielder Daniel Guerini.
Guerini, who began his career with the Roma club, died Wednesday in a car accident in the Italian capital.
The youngster also had experiences with Fiorentina, Torino and SPAL before returning to Lazio in January. He represented Italy at U15 and U16 levels.
"Still incredulous and shocked by pain, the president, the men and women of the Lazio sports club gather around the family of the young Daniele Guerini", Lazio tweeted Thursday.
One of Guerini's former clubs, Fiorentina, tweeted: "We are shocked and saddened to learn of the sudden death of Lazio youth Daniel Guerini, a member of the Fiorentina Youth Sector in 2018/19 and 2019/20.
"The thoughts of President Commisso and everyone in society are with the Guerini family in this extremely difficult moment".
Torino said they were "deeply saddened" by the death of their former player, while Serie A tweeted: "A young talent, a dream interrupted too soon. Rest in peace Daniel ".
A number of other Serie A clubs, including rivals Roma, Inter Milan and AC Milan, have also shared their condolences on social media.
Lazio changed the background of the badge in their Twitter photo to black following the news.
"Still in disbelief and shocked by pain, the president, the men and women of Lazio hold close to the family of the young Daniel Guerini", reads a statement from Lazio.
Guerin, an attacking midfielder who represented Italy at Under 15 and U16 levels, was also on loan in the youth teams of Turin, Fiorentina and SPAL.
"The president Urbano Cairo and the whole Torino Football Club, incredulous and deeply saddened, hold Guerini's family close after the tragic death of Daniel, our former footballer, who played in our youth teams", reads a press release from Turin .
"The world of football is in mourning for the untimely death of Daniel Guerini, a 19-year-old attacking midfielder, who played in the SPAL youth academy from January to June 2020, and is in the Lazio youth academy". The whole club is shocked by the dramatic news and they are close to the Guerini family, to Lazio and to Daniel's teammates in this moment of deep pain and sadness ".
Lazio striker Ciro Immobile has posted on his Instagram page a photo of Guerini next to the words: "Rest in peace".