Fikayo Tomori: Milan want talks with Chelsea on the permanent purchase option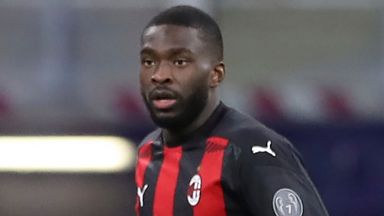 Fikayo Tomori has impressed AC Milan technical director Paolo Maldini since arriving from Chelsea on loan, but the Italian club wants to talk about the permanent option in the deal, which they believe is too high.
Milan technical director Paolo Maldini wants to speak with Chelsea about Fikayo Tomori's permanent option clause.
Maldini is pleased with Tomori's performance since the defender arrived on loan in January, but believes the option of around £ 26m is "very high".
"Tomori is a good talent and we have an option purchase clause," he told Sky in Italy ahead of Sunday's clash against Roma.
"The price is very high. Milan will decide at the end of this season and we will discuss it with the Chelsea board ".
Tomori started as a central defender against Roma: his fourth in Serie A so far and his fifth overall appearance since making the change.
Maldini – Milan legend for over 900 appearances – also said: "Tomori is a player who has particular characteristics of speed and intensity and for us he was a reinforcement".
The 23-year-old graduate of the Chelsea Academy played against the usual Alessio Romagnoli of first choice and alongside Simon Kjaer.
omori fell out of favor under former Chelsea manager Frank Lampard, after the Blues signed Thiago Silva and chose to keep Antonio Rudiger last summer.
Fikayo Tomori is from Milan: the defender arrives from Chelsea with the loan formula with the right of redemption.
Milan completes the defense with the third purchase in January. Fikayo Tomori joins the Rossoneri after Meitè and Mandzukic, providing Stefano Pioli with another precious resource.
AC Milan is pleased to announce that it has acquired on a temporary basis with the right of option for the definitive acquisition of the sporting performances of the footballer Oluwafikayomi Oluwadamilola Tomori from Chelsea FC. The defender joins the AC Milan club until 30 June 2021.